Langvue Energy and The City of Gediavaye in Senegal are helping to unlock new energy markets in Africa
Author:
longvolt
Add Time:2021-10-20 17:09:34
On November 13, 2018, Songzhi Xu, Chairman of Lonviet Energy (Stock code: 838703), had a friendly meeting with Mr. Mamadou SARR, Minister Counsellor, and Mr. Aliou SALL, Mayor of Gediavaye, Senegal, at the Embassy of the Republic of Senegal to China. The two sides entered into in-depth discussions on future cooperation, and signed the Memorandum of Cooperation on Solar Street Lamp and Municipal Road Lighting at the scene. This cooperation has laid a new milestone for Longvolt energy to enter the African market.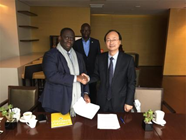 The chairman of Langue Energy, Mr. Sonongzhi Xu, signed the contract with Mr. Aliou SALL, Mayor of Gediawaye, Senegal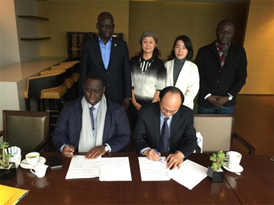 During the talks, Mr.Aliou SALL, the mayor of Gediawaye, said that 80 percent of Senegal faces electricity shortages. Africa has plenty of sunshine, and solar products are still a blank market. It is hoped that Longvolt Energy can provide more solar energy products suitable for use in Africa, such as street lamps, home energy storage systems and water pumps, and jointly invest and build factories in Senegal in the future to provide technical training and perfect after-sales service system, so as to provide more employment opportunities for local young people. In addition, Mr. Aliou SALL also hoped that Gaidiavaya city and Tianchang City would establish a "sister city" relationship, and the two cities would actively carry out exchanges and cooperation in politics, economy, science and technology, education, culture, health, sports, environmental protection, youth exchanges and other fields, so as to enhance mutual friendship and promote common development. Xu Songzhi said as soon as possible to convey this information to the Tianchang city government.
Mr. Xu Songzhi, chairman of Longvolt Energy, said that Longvolt Energy will actively research and develop more solar energy products suitable for African areas, and also hope that the Gaidiavaya municipal government can help promote Longvolt solar energy products, participate in local municipal lighting projects, and contribute to the new energy industry in Africa.
Browse: